My Life
This page is going to contain interesting items about my life that I feel warrant some more information. This might not contain information that all people will find interesting, but I'm just as much of an audiance as the rest of the internet is.
I'll try to be as exact as possible in the dates, but I don't always keep track of the dates exactly. If you happen to know of better dates, please inform me, I like to be as exact as possible.
| | | |
| --- | --- | --- |
| June 6-15, 2006 | | Thailand and Japan Trip 2006 |
| April 2-9, 2005 | | National Parks Tour 2005 |
| July, 2004 | | In-Law's Visit |
| October 11, 2003 | | Fleet Week '03 |
| December 17th, 2002 | | Engagement to Miss Chonthira Intherathep |
| Oct 27, 2002 | | Theresa's 4th Annual Pumpkin Carving Party |
| August, 2002 | | Family Reunion in Michigan |
| April 4-21, 2002 | | Second Trip to Thailand |
| Nov, 22, 2001 | | Ben's Thanksgiving Dinner |
| Oct 28, 2001 | | Theresa's 3rd Annual Pumpkin Carving Party |
| Oct 28, 2001 | | Mr. Ito's White Tiger Tournament |
| Oct 6-7, 2001 | | Ultimate Training Camp 2001 |
| Sept, 2001 | | Nebraska |
| August 1-12, 2001 | | Trip to Thailand |
| April 7-8, 2001 | | Stephanie's Wedding |
| December 31, 2000 | | New Year 2001 |
| October, 2000 | | Trip to Australia |
| October 14, 2000 | | Theresa's 2nd Annual Pumpkin Carving Party |
| September, 2000 | | Point Reyes |
| August, 2000 | | Nebraska Trip, August 2000 |
| July 13-19, 2000 | | Trip to Alaska |
| July 8, 2000 | | Wayne's Birthday Party aka the 70's Party |
| July 4, 2000 | | July 4th of 2000 |
| June 30, 2000 | | Theresa's 25th Birthday |
| June 27, 2000 | | Mid-week Party |
| June 21-23, 2000 | | Usenix 2000 |
| February 12, 2000 | | Trip to New Zeland |
| August 8, 1999 | | My 21st Birthday |
| July 8, 1999 | | Charcoal died |
| March 17, 1999 | | Hydrogen's RAM stolen |
| September 6-8, 1998 | | Bike Trip to Newport, OR |
| Spring 1996 | | Senior prom of South Eugene High School |
| Spring 1996 | | Historian Election |
| 1982- | | History of Computers and Myself |
In my senior year of high school, some friends convinced me to write a speech for Lorin Mueller. Lorin Mueller was to run for historian and read the speech that I wrote for him. I knew that there were some interesting history blurbs in the fortune database so I searched through them to come up with a speech.
It turns out that behind my back, they were getting enough signatures to run me for historian (even though I wouldn't be back next year). They did manage to get enough, and it wasn't until the day of the speeches that I found out that I was the one to deliver the speech. I thought I had lost the speech, but I just receintly found it. High School was definately an interesting time.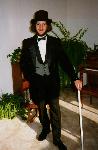 I only ended up going to my senior prom in high school. Before that time I just really wasn't that interested in going to it. But, when I did, I decided to not just go for a nice tux, but I went for tails, top hat and cane.
I didn't have a date for the prom, but a friend of mine, Stuart Siegrist, drove me to the prom. We had dinner with a couple of friends before finally ariving at the University of Oregon's Ballroom where the prom was held.
It wasn't a teribly exciting event, but it was fun to get all dressed up and visit with your friends. I got to see and chat with many people that I didn't see that often around school.
Starting Point1: Parents house in Eugene, OR
Destination1: Oregon Coast Aquarium in Newport, OR


You can see pictures that I took along the way.

Wow, I've actually gotten off my ass and decided to write an entry about my bike trip to Newport a measly two years after it happened. It won't be that detailed, but more what I did and stuff.

I started off Sunday around 11am or so and decided to leave Eugene via Lorane Hiway. I didn't realize this route would take me so far south but it was ok. Hmmm, this is going to be a pretty erratic story, oh well.

I left with most of the weight on my back (don't do this, it's bad). I was carring food, a couple liters of water, a pan, a cd player and cds, and my camera in my backpack. Not sure how much it weighed, but it was pretty heavy. I had a couple more liters of water on my bike along with a pair of jeans and mini camp stove on the rack on the back. That is pretty much all I took. I was quite stupid and didn't take either a compass or a coat! Both of these would of helped me and I'll definately take these in the future. I did have a beach towel that was very useful for keeping me warm once I hit the cold coast. Oh, and I did have a map of Lane County that has most of the minor roads on it, plus some of the logging roads.

I left Eugene heading along Lorane Hiway which heads south west instead of north west which is the direction of Newport from Eugene. This did end up adding a few extra miles, but I wanted to stay off the major roads because of traffic. It was beautiful, though you would see many of the scars from clear cutting.
The first night after biking about 75 miles I was ready for sleep. As I was in the middle of nowhere, I ended up having to bed down by a river to catch some sleep. This turned out to be a good thing as the hard river bed rock that I slept on let all the sore muscles in my back (from carring the heavy back pack) relax. The next morning I didn't have a sore muscle in my back, and was welcomed by a beautiful site.
The air was clear and the sky was wonderful. I had woken up shortly before the sun rose over the hills that surrounded me. Though I couldn't see the sun it was definately daylight.
I set off after I made myself breakfast on the stove. I decided to head towards a dirt road that would probably save me a lot of biking. It took me a while to get there, but when I got to what I thought was the road, it was closed off. I decided that I might as well try to go through it because on the map it wasn't more than a mile long if that. After a few miles and crossed a few ravines (which I had to pack my bike on my back to get across) I was starting to get worried. I had plenty of daylight, and I wasn't very far from the coast, so I kept going.
I finally came to a paved road, but the problem was to decide which way to head on it. The sun wasn't any help as it was behind some clouds (plus it could end up switching back on itself). I didn't have long to wait before a group of people drove by hunting deer. They gave me some help, but they weren't exactly sure what the name of the road they were one. As it turned out, I had managed to leave my map (which was about five miles north of where I thought I would come out), and circle around to this road from the north. How I managed that I'll never know, but I did finally make it down to Cape Perpetua on the coast around 6pm only about three hours after I had entered into the closed road.
Now I had to rush to get up to Newport before the Aquarium would close so that I could see Keiko. I'm not sure exactly how long it took me, but I did manage to get there with about 15-30 minutes to spare.
The coast was colder than I thought, and as I mentioned before, I didn't have a coat, so I was biking in just a t-shirt and jeans. This being the Oregon coast it was also misting/raining, so I was wet shortly. As soon as I got on the cost, I started calling home hoping that I could get picked up because I was so cold. Alas, my parents weren't home, and I didn't manage to get ahold of them till around 11 or 11:30pm. When I did, it was to late for my mother to pick me up as she had school early in the morning. So I headed to a camp ground to spend the night.
The next day I decided to head directly home so I could spend the next night in my warm bed. This time I decided to head via the major roads. The trip home covered about 100 miles, but it took the same amount of biking time as the previous two days where I only covered about 75 miles. I did get a flat tire on the way home which I was able to fix. It did take me a while to find the two spots in the tube that got punctured. I ended up getting home around 10pm that evening.
After I got home, I was glad that I didn't get picked up. It was fun to be able to make it all the way home without any help. It definately taught me to bring more dry food and make sure that I have a cart for my bike. I will also make sure I have proper equipement and clothing.
Well, an ex-roommate and ex-friend of mine decided to do some very nasty things without knowing the complete story of what was going on. Now for the story.
The First Day
Yesterday morning, March 17th 1999, I was getting anoyed at all the pizza boxes that were accumulating in the kitchen. After confering with Benjamin Fleck, my other roommate, I found out that they all were Jonathan's, so I picked them up in the stack that they already were in and put them on his bed in his room.
I cam home shortly after 9pm. Just a few minutes later, Benjamin Fleck knocked, and after I adminited him, he walked into my room. He was curious to find out Mini's reaction to me putting the boxes on his bed. He had just opened the door when I told him to look around. He was puzzled at first, but when he turned around, he found the pizza boxes scattered about. They were blocking the hallway to his room. He moved the boxces back into Mini's room anoyed that they were blocking the way to his room.
We decided that we would go see A Civil Action at 11:30pm tonight as we had dicussed previously. At about 10:40pm, we left for the theater. When we got back at about 2am, we found the door to my room shut with a note pinned to my door reading (including spelling mistake):

John-Mark,
	I am leaving.  I have all of
the memory from hydrogen.  If you actually
want it back, make shure you don't touch
my stuff.  This includes the pizza boxes.




			Mini

When I walked into my room, I found pizza boxes scattered about the room. There was (and still is) pizza sauce spread over my shoes. Pizza crusts and pieces were on the floor. I was livid about the memory being taken from hydrogen. After a few minutes when I calmed down and thought about it, I decided to take pictures to document the incident.
For those of you who do not know, hydrogen is my primary server. It acts as internet router for my home network, file server for 10 gigs of disk space, my primary mail reading machine and my primary software developement box. Without this machine, there is little that I can do with my computers. The reason that I am able to write this information two hours after I got home is that I moved my Ricochet modem to my win95 box. That wasn't even painless, my win95 box is set up for dns resolution from hydrogen and requires dns resolution to connect to other machines easily. After that, I couldn't remeber various ip addresses to machines that I have acounts on, but I managed to remeber 4J's main web server's address. Once I connected to it, I was able to get the other ips that I needed.
Well, it's funny, even though this is a major anoyence to my life, it does not drasticly effect my life. It will be anoying to try to track down Jonathan Mini, but there are things you have to do. I hope that this can be resolved soon, but he also took a number of other items that belonged to me and not him. I guess I should also include the fact that he did return a book of mine that he was reading.
The Second Day
I went to sleep shortly before 5am. I decided I was going to sleep on it and confront him at work the next day (assuming he was going to be there). I woke up around 9:50am slept for a few minutes longer and started getting ready to leave the house at 10:10am. I walked to the University of Oregon bookstore where Jonathan Mini works. Once I got there I confronted him about giving me my memory back. He simply said, "No" and started to walk away. I then asked him as he was walking away when I was going to get my memory back. He responded that I was going to get it back when he finally removes the rest of the stuff from the house. I didn't care, I wanted my memory back now and I said I would file a police report if he didn't. This didn't phase him, he said go a head, he didn't care.
I walked down the block to the police station that is on campas. I told the Officer on duty that I would like to file a report. At first, he asked me how I knew that it was Jonathan that took the memory, so I simply showed the Officer the note that he left me. Though a series of questions he got to know the story about the pizza boxes and what Jonathan had done. I told the Officer about confronting Jonathan in the store, so he decided to walk down there to have a talk with Jonathan.
At first, Jonathan was refusing to return the memory before he cleaned out the rest of his stuff. It wasn't until the Officer thretened him with being arrested that Jonathan FINALLY went out to get my memory and return it to me.
That about finishes the story, I still have to get over $400 that he owes me and some other equipment back, but the other stuff wasn't nearly as imported at my server's memory. Now that I've had a bit of spice in my life, I'm ready for it to go back to the boring old self that it was before this all started.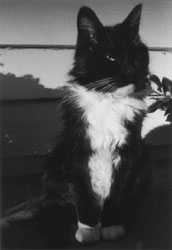 There really is not that much to say, just that he was with me for a very long time. I got him back when I was in the second grade. My parents agreed to get me a cat if I would feed some fish we had for a few months. I'm not sure exactly how long I had to feed them.
Soon after, a guy who worked in the same building as my father did found a stray cat on the Eugene Downtown Mall. He was so starved that he just layed there when we took him home. We took him to the vet and he estimated that Charcoal was about a year old, and that he would die of old age about the time I moved off the college. I entered college just about three years ago, so he did manage to live a very long life.
Once he was fed, he really was afraid of just about everything. If you picked up a newspaper he would run from you, and at first he wouldn't even let us hold him. He did calm down but he was always very full of energy. He would run around the house for absolutely no reason. He would run into the living room, turn around, and run down the hallway and turn around. He would just keep doing that for a while.
In the last 5 years or so, he calmed down quite a bit. He spent most of his time just sunning himself and sleeping. He no longer ran about, but he still moved around quite a bit.
Charcoal was a truely special cat, and I will never forget him. Now that the server is back up, here is a selection of photos that I have of Charcoal:
Guess I haven't added though picture references yet, I'll have to do that soon. My mother did find the receipt when we first took him into the vet. The date on the receipt is 5-9-86, which makes him at least 13 years old when he died.
If you have looked at my Photo page you will have noticed that there have been pictures from my 21st Birthday up for quite a while. I just haven't gotten the time to write about exactly what all happened that night yet.
We started off in front of my house, shortly after David arrived, Melanie and her boy friend arrived, so we headed of to Wild Duck. I had a Midori Sour and a Flaming Samboka to start the night off. The sour was quite nice, and the Flaming Samboka just had a licorice taste to it. The Flaming Samboka leaves a carmalized residue in your mouth from it's burning. Phil was suppose to head over there are work, but we didn't see him at the Wild Duck.
So after waiting a bit, Melanie, her boy friend and myself headed over to Doc's Pad while David took care of some personal stuff. On the way, I decided that I should call up Phil's house and see where he was, and I left Melanie's cell phone number to get ahold of us. While I was at Doc's Pad the bar tender bought me a Mind Eraser, and Melanie bought me a Brain Hemorage. We stayed there for a while waiting for David to get back. Just as we were leaving with David, Phil calls saying he's close to Max's, so we changer our destination to Max's.
At Max's, I just had an Pale Ale for my birthday drink which was pretty good. We didn't spend much time at Max's, and decided that we should hit Piccolo. When we got there, Piccolo had already closed, so we decided to walk to Joggers.
At Joggers the bartender bought me a Tequila Sunrise which is pretty good. I also finished off David's Midori Sour. I might of had a second drink but I'm not sure.

After Joggers we walked to Biagi's and we met a nice guy from Montana that bought me a Prarrie Fire which wasn't to bad in my drunken state, and the bartender, who Phil knows, bought me a shot of Yeagermister.
Then we headed off to Joe Federigo's to finish off the night. By this time, I was quite drunk, but still had a couple more drinks. For the first drink, I had a Lemon Drop which was quite good. After that, I had a vodka and coke, to finish the night off.
After Joe Fed's closed, we headed to a friend of Phil's house which wasn't to far from my place. It wasn't long before I started to puke my guts out because of all the alcohol that I had consumed. For about an hour, I just sat in a chair outside feeling pretty much like shit and puking some. At around 4:30am, I decide that I want to go home, which was kinda of difficult because of how intoxicated I was. I started going down 13th Street the wrong way which I realized when I reached the end of the block. So I turned around, managed to stumble the remaining 5 blocks or so home and crash.
The next morning I woke about 11am or so, and couldn't really sleep much anymore so I got up, and decided to have a cup of water. My roommate was up and we watched TV for a bit, but then my stomache couldn't take the water, so I decided to go back to sleep even with the spins. I then woke up at 4pm and went out to get some food, and managed to keep it down even though my stomache was still not feeling very good. By 8pm or so, I was feeling pretty close to normal.
A thumbnail index of the photos I took.
I went out on a friend's Uncle's boat to sail around the San Francisco Bay some, and then watch the fireworks.
Sailing is always a relaxing experience. It is so quiet and the sound of water lapping against the boat. It can also be fun and exciting if you get into a close reach when the wind really pushed the boat.
The fireworks were nice as we were able to see a couple of the displays. It's a different experience watching fireworks from a boat as it bobs underneath you.
---
1Thanks to MapBlast for the maps. Copyright ©1998 Vicinity Corporation. US Maps Copyright ©1998 Etak, Inc.